OUR STORY
THERACK® Workout Station – All In One Gym is a compact, free standing and portable workout device that provides a convenient single station from which to link together any series of fundamental and generally familiar exercises. The expectation of using such a routine, commonly known as circuit training, is to at once improve physical strength, stamina, and shape.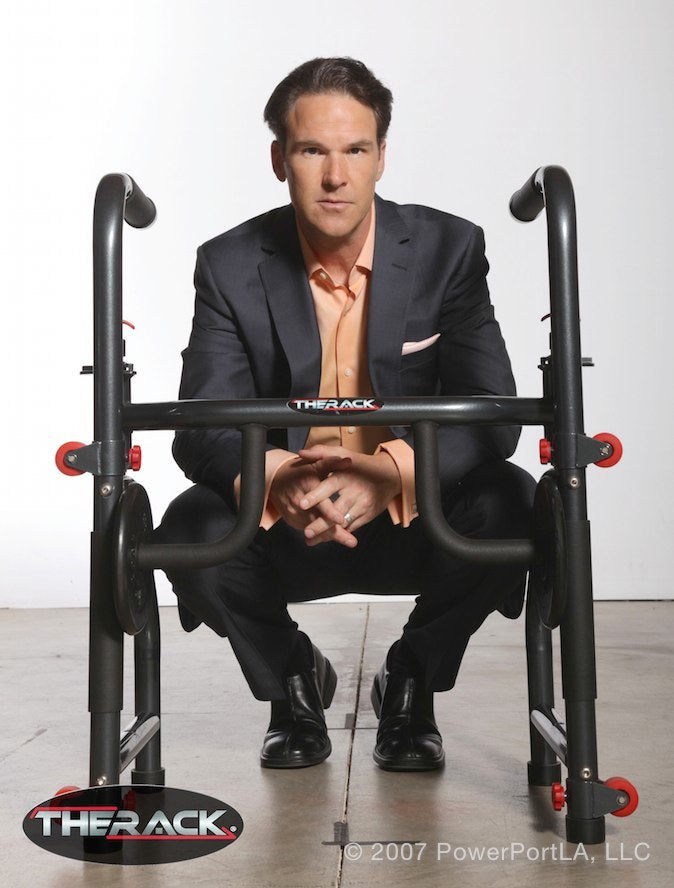 THE INVENTOR
THERACK® was conceived out of necessity during the winter of 1995-1996 by actor and national category leading endurance athlete Travis Burrell, while filming Escape from LA (1996). To better manage the mind and body numbing down-time inherent in more than nine weeks of night-shoots, Burrell cobbled together a makeshift on-set gym from remnant sawhorses, catering chairs and walkway rails. From that Burrell imagined a single, unobtrusive exercise apparatus that could be carried from set to set. THERACK® was born the following year.
From its upright, Level 1 position the most obvious exercises made available by THERACK® are parallel bar dips, knee ups and leg lifts. With the device placed on its back, or in the Level 2 position, other options including bench dips and push ups with varied hand positions can be accomplished. By lifting the device by its inner handles, or L-Bars, and utilizing its own 30 pounds as resistance, an exerciser can perform bent over rows, upright rows, arm curls, overhead presses, and lower body exercises like squats and lunges.
The training load for these movements can be increased by adding ordinary olympic barbell plates, or by using THERACK®'s proprietary, plastic coated and more snug-fitting weight rings to the L-Bars. To receive the extra weight the machine's side rails are easily pivoted out of the way, and when repositioned prevent the plates from inadvertently sliding off the handles. Also, from Level 2, when seated on the L-Bars, sit up / knee up combo exercises can be done. Once folded into its flat, Level 3 position, from where THERACK® can roll freely fore and aft on its attached wheels, an exerciser can place either their hands or feet on the L-Bars and from a push up or plank position carry out knee tuck or pullover-like exercises. As well, from Level 3, traditional sit ups are done by hooking the feet beneath the L-Bars so the weight of the machine secures the lower body during the movement. Other exercises and stretches are possible depending on imagination and strength.
The three sided tubular steel frame of THERACK® is inherently sturdy and durable and its rubberized handles provide adequate grip and comfort. THERACK® quickly collapses and expands with the pull of two spring loaded pins, and folds into the fairly flat dimensions of about 37″ x 35″ x 5′. Even at 30 pounds it's not particularly unwieldy to carry nor stow. Unfolded, its small footprint of approximately 35″ x 26″ x 18″ allows most exercises to be accomplished within confined workout areas. The utilitarian design and metallic gray frame of THERACK® are offset by scarlet wheels and adjustment pins, together providing perhaps a measure of aesthetic neutrality.

THERACK® was originally sold in sports equipment chain stores from 1998-2002. It was licensed under two patents from MOTIV Industries Inc., an entity founded by Travis Burrell and then business partner, Robert Zuckerman. Burrell eventually filed a third patent for his "multi-level, portable and versatile exercise apparatus" to assume full control of his invention and in 2007 began manufacturing, distributing and marketing THERACK® via his new label, PowerPortLA, LLC. Burrell and THERACK® were featured in IRON MAN, FitnessRx, Exercise, Competitor magazines and featured in Better Bodies segment on My13 news. Today THERACK® is available through THERACK® Workout website, and domestic and international retail outlets. It's been seen now on ESPN, Discovery, History, Versus, Universal Sports and Spike networks.
OUR PATENTS & TRADEMARKS
U.S. Patent Numbers 5,961,430, 6,248,048, & 6,692,417 are owned by PowerPortLA, LLC. THERACK® word and design marks are federally registered trademarks owned by PowerPortLA, LLC.